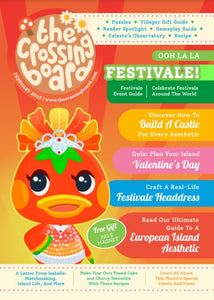 Extra February 2022 Hard Copy
Regular price
$5.00
$0.00
Unit price
per
Did you miss out on our February 2022 fanzine? Lucky for you, we have a limited number of copies in stock!
Upon receiving an order, we aim to ship our extra fanzines within 1-2 business days.
This issue will be shipped from the UK
Have any questions? Send an email to contact(@)thecrossingboard.com
---
Share this Product
Everything I hoped for and more!
I recently came across this zine via Instagram, and immediately bought the physical copy subscription. I also purchased the February and March editions while I wait for the April edition to be released. Wow - I'm blown away! There is clearly a lot of love and effort put into the content of the zines. The articles are really engaging and creative, I loved the variety of topics covered too. Definitely a must-have subscription for any Animal Crossing fan.
First fanzine!
I started a 12-month subscription, and the first fanzine would have been the March issue. However, I couldn't wait that long, so I bought an extra February issue! When it arrived, I read it straight away, and I found it fantastic! There are amazing tips, activities and recipes, and a Pave magnet! The theme of this fanzine is Festivale, and it was very informative in a bright, fun way! Very engaging! Looking forward to the fanzines I will receive in my subscription!
---