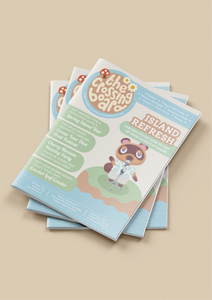 Extra April 23 Hard Copy
Regular price
$6.00
$0.00
Unit price
per
Did you miss out on our April 23 fanzine? Lucky for you, we have a limited number of copies in stock!
Please note that once we receive an order, we aim to ship our extra fanzines within 1-2 business days.  Due to weight restrictions, extra fanzines are shipped separately.

Have any questions? Send an email to contact(@)thecrossingboard.com
---
Share this Product
Missing Free Gifts and Wishing for a removeable Poster
I enjoy the love that goes into these but I really miss the free gift. It was always something small but something to look forward to.
That being said I don't mind receiving a "poster" but it annoys me how every poster that has come out always has magazine content on the back side of it!
It makes it hard to want actually take the poster out to frame or hang up. I wish the back side would have a simple pattern or an aspect of the magazine you wouldn't mind tearing out. Even better if it came separated from the magazine. I guess at this point they are seen more as magazine spreads.
Maybe I missed where they had announced it but I wish to know why the free gifts stopped. As always keep up the amazing work!
---